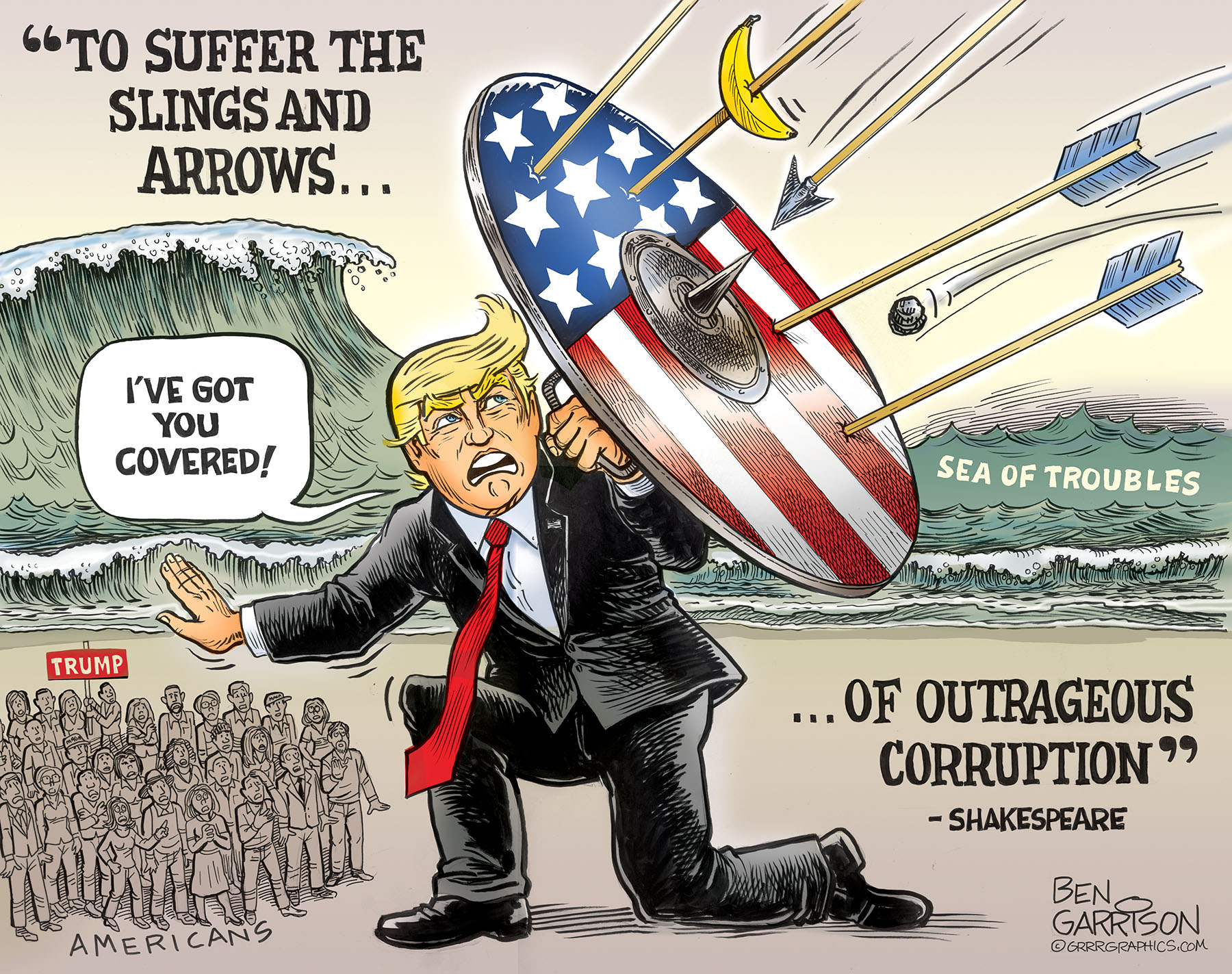 "The Slings and Arrows Of Outrageous Corruption"
Cartoon published 08/21/2023
The criminal currently befouling the White House, Joe Biden, acts as if fair is foul, and foul is fair.
He knows he can't beat Donald Trump in a fair election and therefore his operatives commit 'lawfare' to keep the 45th president tied up in court during the presidential campaign. This is blatant election interference, and reason has been taken prisoner.
Trump is forced to face a sea of troubles as well as endure outrageous slings and arrows from the outraged Marxist Democrats, who have crossed the Rubicon and are out to complete the destruction of our Republic. What's done cannot be undone and we must turn the tide.
Meanwhile, something is rotten in the state of Delaware. Joe Biden has been exposed as a traitor. We already know he's an accomplished liar. He often flashes his dagger-like smile while engaged in his mendacities. He's a low-life conman who knows the game is rigged in his favor, therefore he brazenly commits crimes with his son Hunter while gaslighting us at every turn. As a president, Joe is a walking shadow and poor player who struts and frets away his term upon the world stage. There is no method to his madness. His is a tale told by an idiot, full of sound and fury signifying corruption.
Biden's despicable acts only makes Trump stronger. Greatness has been thrust upon him as America reaches its 'to be or not to be' moment. If we are to be a Constitutional Republic with equal justice, then we need to make sure Donald Trump is elected.
— The GrrrTeam
Signed Print Available Click To Order Yours
Limited Edition Signed Prints Poster Size  Click To Order Yours
Buy your one-of-a-kind, original Ben Garrison
Trump Slings And Arrows Original Art- Collectors Item
This snapshot of history in the making comes as an amazingly attractive piece of artwork. Depicting America's current fight against tyranny and globalism, this cartoon is one for the history books.