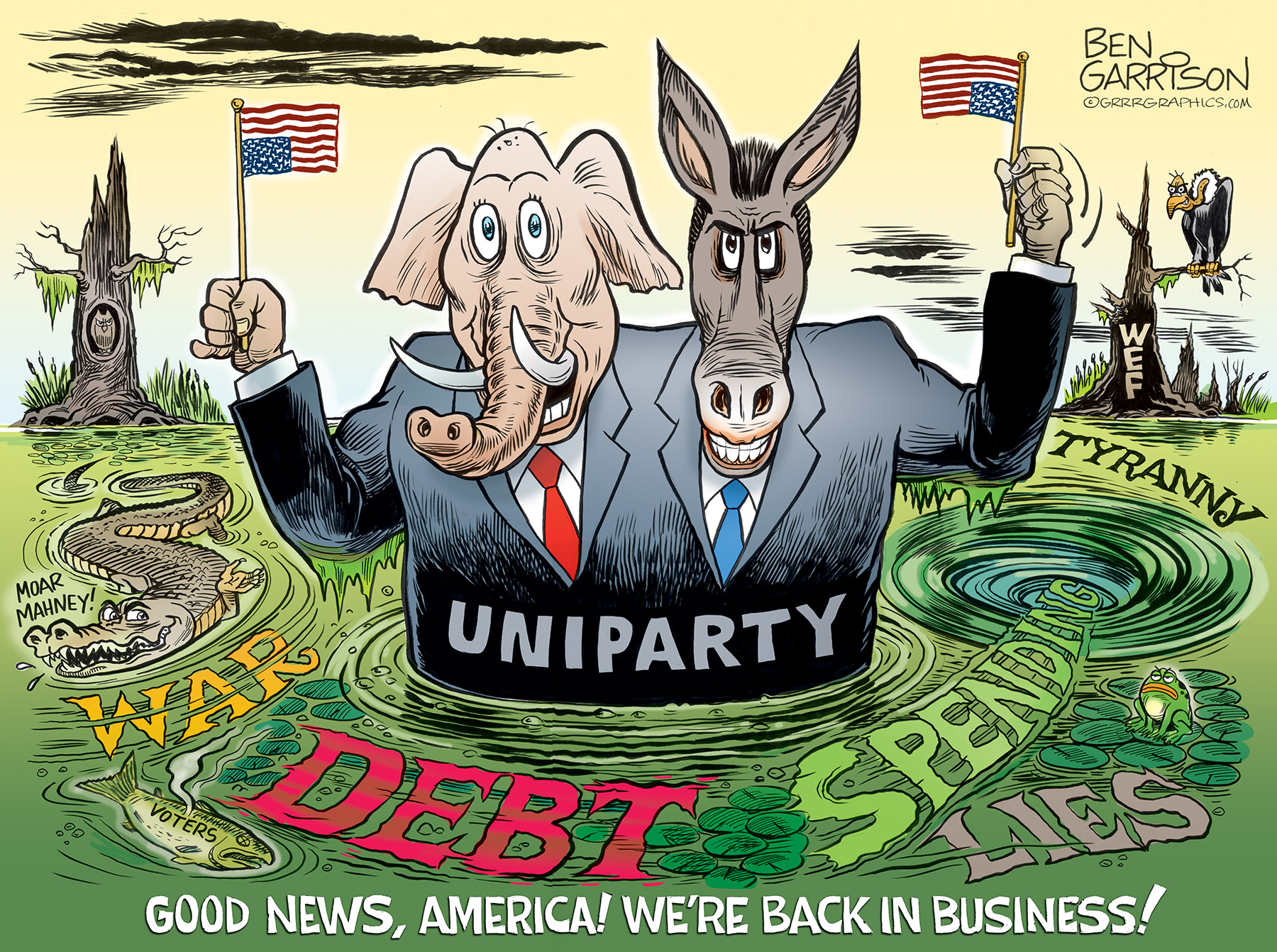 Uni-Party, "We're Back in Business Baby!"
Cartoon Published January 8th, 2023
Now that the House has elected a Speaker, they can begin governing everyone again. Many were terrified at the prospect of not having a functioning government there to tell them what to do while enacting new and expensive legislation that robs their pockets and liberty. Those who worship big government can now get back on their knees and spout a prayer of thanks.
Speaker McCarthy is a very experienced politician and that's not a good thing. It means he's used to compromising and getting along to go along. He revealed his 'tell' in his acceptance speech. He invoked the name of Lincoln and how great that president was and blah blah blah. Lincoln was NOT a great president. He is worshipped because he was the victor of a bloody Civil War. Schoolbooks mold young minds and they end up parroting the statist praise. Lincoln caused the deaths of 620,000 men. 1.5 million casualties total when the injured are factored in and that's a huge number considering the US population was around 31 million back then. Lincoln trampled on the Constitution and arrested his political opponents. He helped create a strong central government and weakened the rights of individual states. Big government has grown ever since and now it's a dominating leviathan of force and power. Our politicians love that power and all the money that goes with it.
Everyone saw how angry McCarthy became when one of the last MAGA holdouts, Matt Gaetz refused to vote for him. The Neocon RINO Representative Mike Rogers of Alabama was so incensed that he seemed to threaten violence toward Gaetz. This is not surprising, because Rogers probably thought his gravy train was being unduly delayed. Too many go to Congress ostensibly to represent their voters, but when they get there they go along with the Uniparty and then they get very rich due to insider trading and kickbacks. They get very comfortable and end up doing all they can to support the Swamp rather than drain it.
Promises were made this time around, but to me they were made to be broken. Let's start with cancelling the 87,000 armed IRS agents who will be ready to swoop down on the middle class and destroy them. We know the socialist Democrats love the IRS. They pretend the IRS will go after the rich, but the middle class can't afford tax lawyers, so they will suffer the most. The Democrats will never relinquish their power to transfer money from hard working people and give it to various victims du jour. The RINOs will be enlisted to go along. Most likely we'll see a small cut in the amount of those new IRS agents—and you can be sure the Republicans will cynically trumpet it as a victory.
The Republican Party loves to complain, but they do little to stop the spending, the debt, the open borders, and the open corruption taking place. That's because they benefit from many of those problems. The complaining is for the benefit of their voters. Trey Gowdy did this when he was a Representative in the House. Now that he's on Fox News, he parrots the warmonger establishment NeoCon, Sean Hannity. Remember, when the Republicans were in charge during Trump's first two years, the wall was not built, and real change was not made. Expect more of the same inertia.
You are invited to join me on SubscribeStar- a Pateron alternative, for exclusive cartoons and behind the scenes look at GrrrGraphics, Click to Join!
The Republican-controlled House has to put up or shut up. At this point I'm in 'show me' mode.
I have a feeling they'll show us the same old same old.
— Ben Garrison
Follow @grrrgraphics on GAB, TRUTH SOCIAL, PARLER, INSTAGRAM, TELEGRAM 
or join us at The Garrison!
Cartoon available as a Limited Edition signed print- Order your print today! Makes a great gift!
We are fundraising for 2023, You can keep GrrrGraphics online with a purchase! 
YOU WILL BECOME PART OF HISTORY
..by purchasing your one-of-a-kind, original Ben Garrison Cartoon and making an investment in America's exceptional unfolding story.