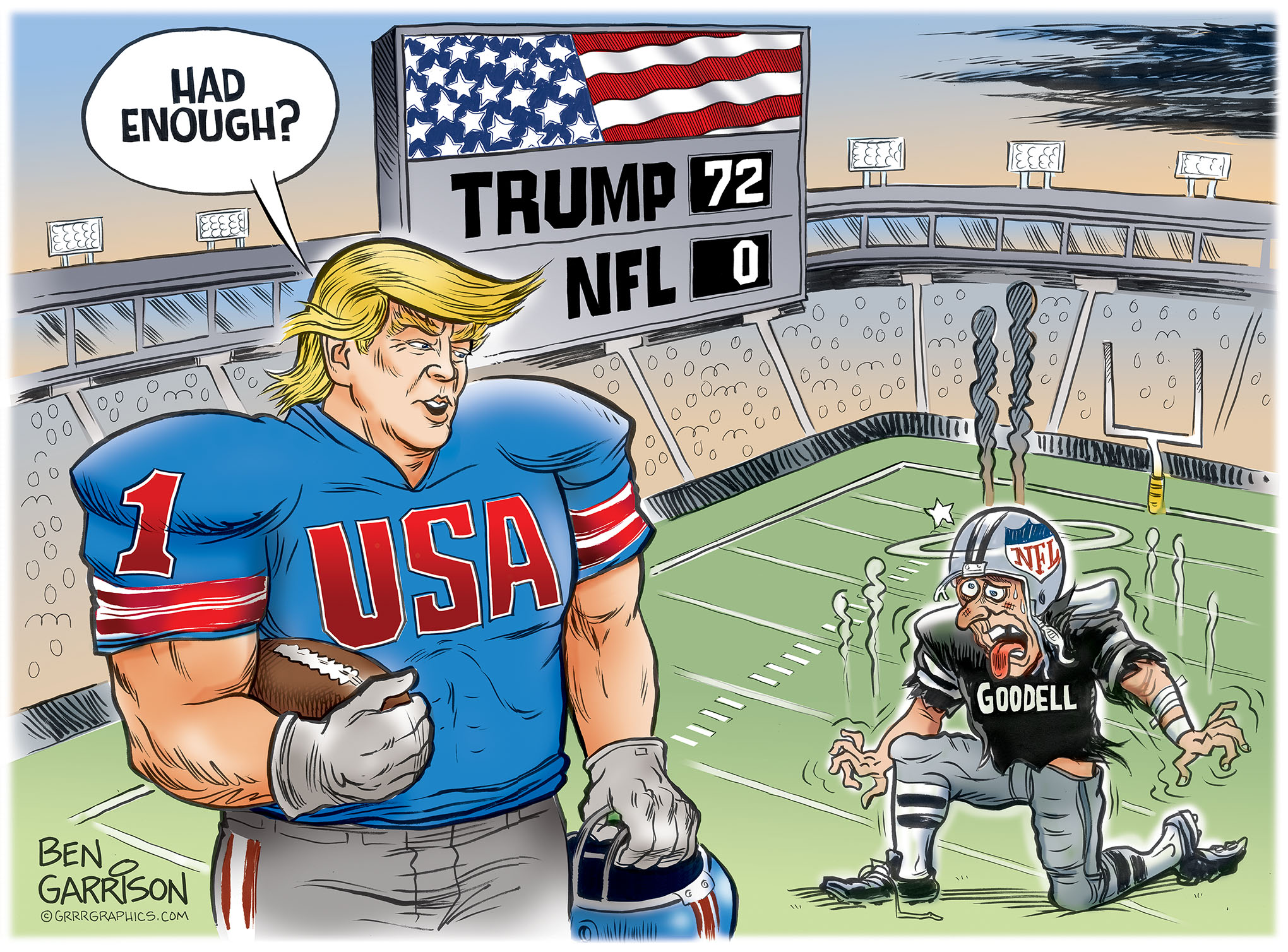 "We want people to be respectful. We want people to stand. We want to keep the focus on the game and the players." Roger Goodell.
As it should be.
As incredibly busy people living in incredibly stressful times, all we want is to just watch the game, crack open a cold one, and enjoy our favorite players making clutch plays.
That's all we want when we tune into Fox or NBC to watch NFL games.
Standing for the flag was never an issue during the National Football League's entire existence until recently.
It showed respect.
It showed character.
It showed gratefulness.
And now the NFL has made it clear that ALL players must stand during the anthem or be fined.
The NFL only corrects these things if:
It's losing money
It's hurting their ratings
And boy, did they lose millions of dollars and millions of viewers.
The NFL is a business. It will protect its public image and its revenue at all costs. The public outrage over disrespecting the flag was too high and with reluctance, the NFL issued out this new policy. Although sadly, players may remain in the locker rooms during the national anthem if they choose not to stand.
The NFL is doing all that it can to save face. Even Trump complimented the NFL for doing what's right—giving America and all its fallen soldiers respect.
Just because these players have a platform to reach millions of people, does not mean to preach their SJW views during the job.
What if waiters at restaurants were to do that? Hear their views and lectures before they take your order? And if you don't agree with it? No soup for you.
When you're working at your job, no one cares about your political views or opinions.
You're there to do a job. I don't want to go to a bar and have the bartender tell me that somebody out there somewhere is being treated unfairly and it's my fault or America's fault.
If NFL players want to make significant change to the areas they are most concerned about, do it on their own time, not on the job.
They claim that kneeling for the national anthem is not about disrespect, but about raising awareness about "police brutality against people of color."
Well if this is the case, why during the national anthem? Why do this ten yards away from the flag?
Why not try to raise awareness during days they DON'T play football?
These kneelers believe that America is an unfair, unequal, terrible place, yet ironically, here they are playing football and making millions. And being idolized beyond belief.
The NFL is a business.
If a business owner comes over to you, the employee, and says, "Hey cut out the bullshit and do your job." Guess what? You do your job.
Our NFL players don't get this. They think they are entitled and special, when in reality; they just need to cut out the bullshit and do their jobs.
Ian Garrison
Don't Miss the ULTIMATE MAGA BUNDLE 2 signed Books and A LOCKTHEMUP Sticker Order yours today!