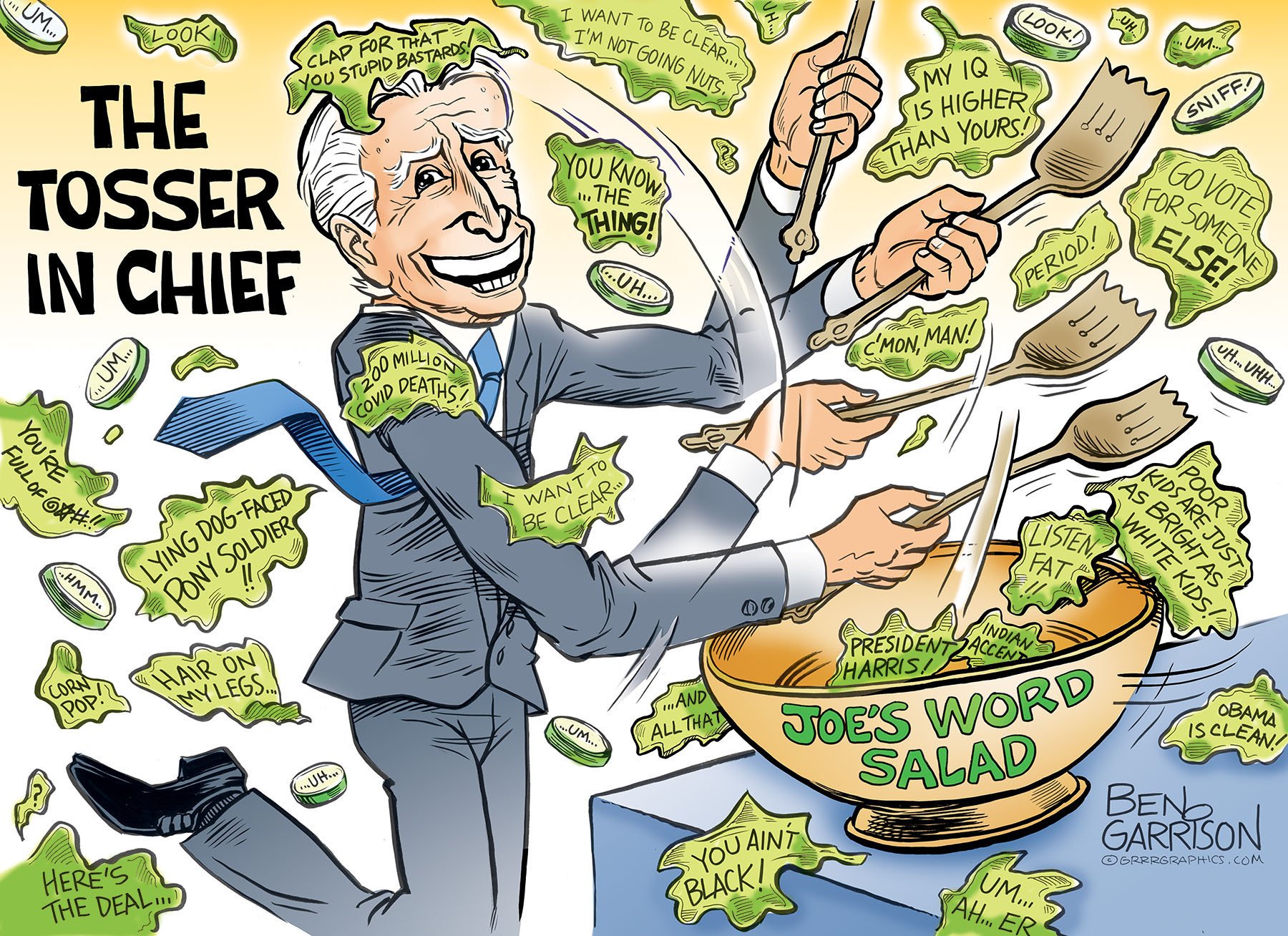 Joe Biden's Word Salad..quite the mouthful
The tosser* in chief served up a big bowl of word salad for everyone to enjoy at his CNN town hall recently.
We were treated to 40 seconds of rambling nonsense as he tried to answer a question about when children under 12 should be vaccinated. That idea is abhorrent in its own right as science proves children do not need to be jabbed with the experimental vaccine.  But I digress.
Biden clearly lost his train of thought and struggled with the question:
"And the question is whether or not we should be in a position where you are — why can't the — the — the experts say, 'We know that this virus is, in fact — it's going to be' — or, excuse me — 'We know why all the drugs approved are not temporarily approved, but permanently approved.' That's underway too. I expect that to occur quickly," Biden said, according to a White House transcript.
Even die hard, brainwashed Biden "supporters" had trouble justifying Biden's responses.
Ready to Fight aback against the Clowns? Join us on Patreon- an easy way to support cartoons with a small monthly donation. Plus see new cartoons first before public release! Thank you for your amazing support! Click to view Grrrgraphics patreon page
The latest narrative trying to explain away Biden's gaffes and mumbling replies is "Biden stuttered when he was a child."
Are we are supposed to feel sorry for him and not criticize his policies because he had a stutter as a child?  That is a recent narrative and does not explain the years of miss speaking, racist remarks and name calling in Biden's long political history.
Biden not only lost his train of thought, he turned it into an absolute train wreck as he continued to ramble about inflation during the highly structured CNN town hall:
"No, look, here's the deal: Moody's, today, went out — a Wall Street firm, not some liberal think tank — said if we passed the other two things I'm trying to get done, we will, in fact, reduce inflation. Reduce inflation.
Reduce inflation," Biden said. "Reduce inflation — because we're going to be providing good opportunities and jobs for people who, in fact, are going to be reinvesting that money back into all the things we're talking about, driving down prices, not raising prices."
Yeah. Have you noticed prices going up? Or going Down?
Yup, that's what we thought.
We think the Biden "team" will think twice about scheduling another town hall anytime soon.
-GRRRTeam
*Tosser is a British slang expression for an "obnoxious jerk, a stupid and unpleasant person usually male."
And there's a few more meanings which I won't add here. 😉
Joe Biden Word Salad Original art now available click to view!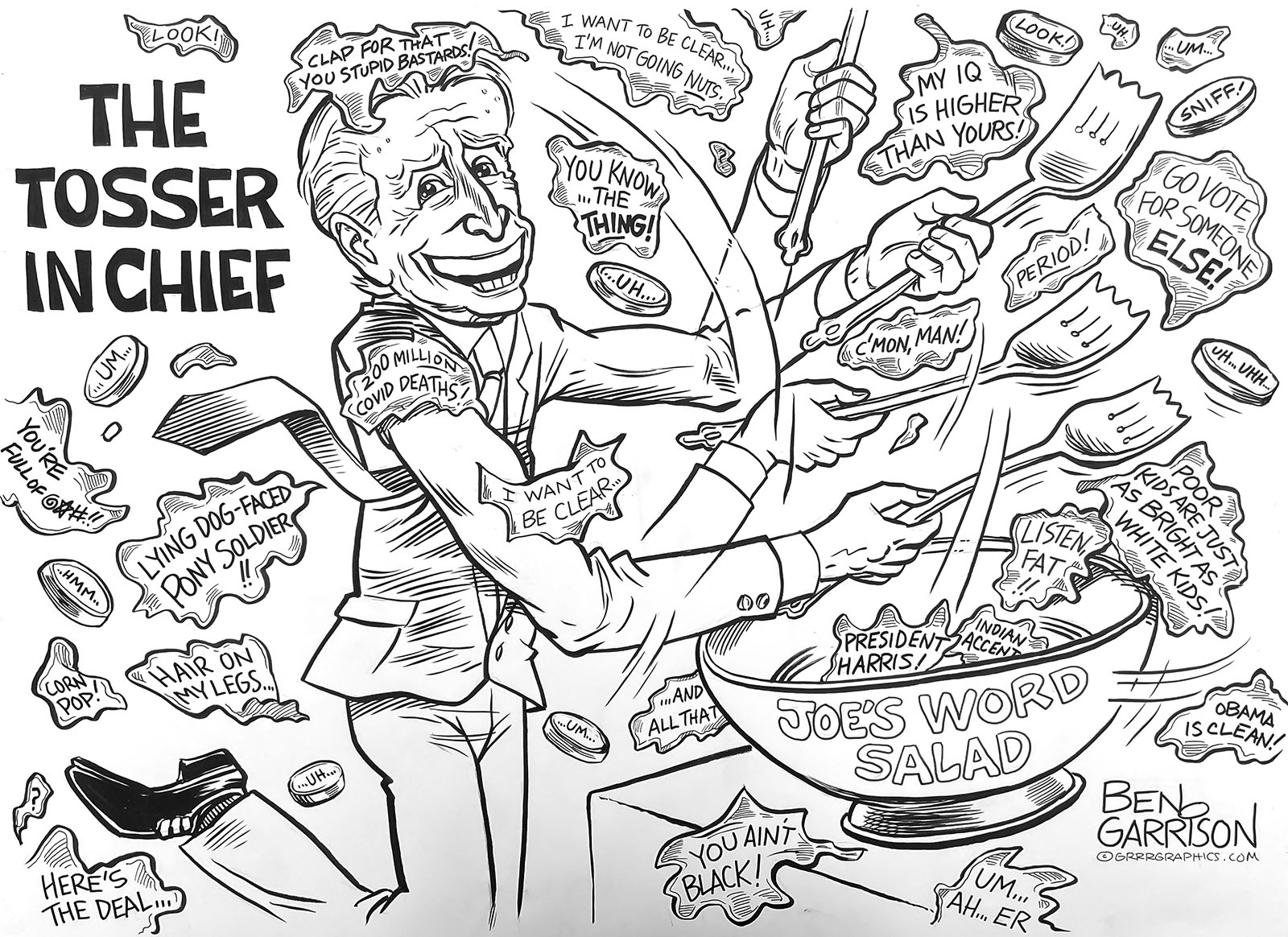 Your support means we can stay online and fight against the criminal cabal.  There is a line in the sand, they can not cross it or we will lose our country. Please support our work with a donation- Donate today!
[DISPLAY_ULTIMATE_PLUS]