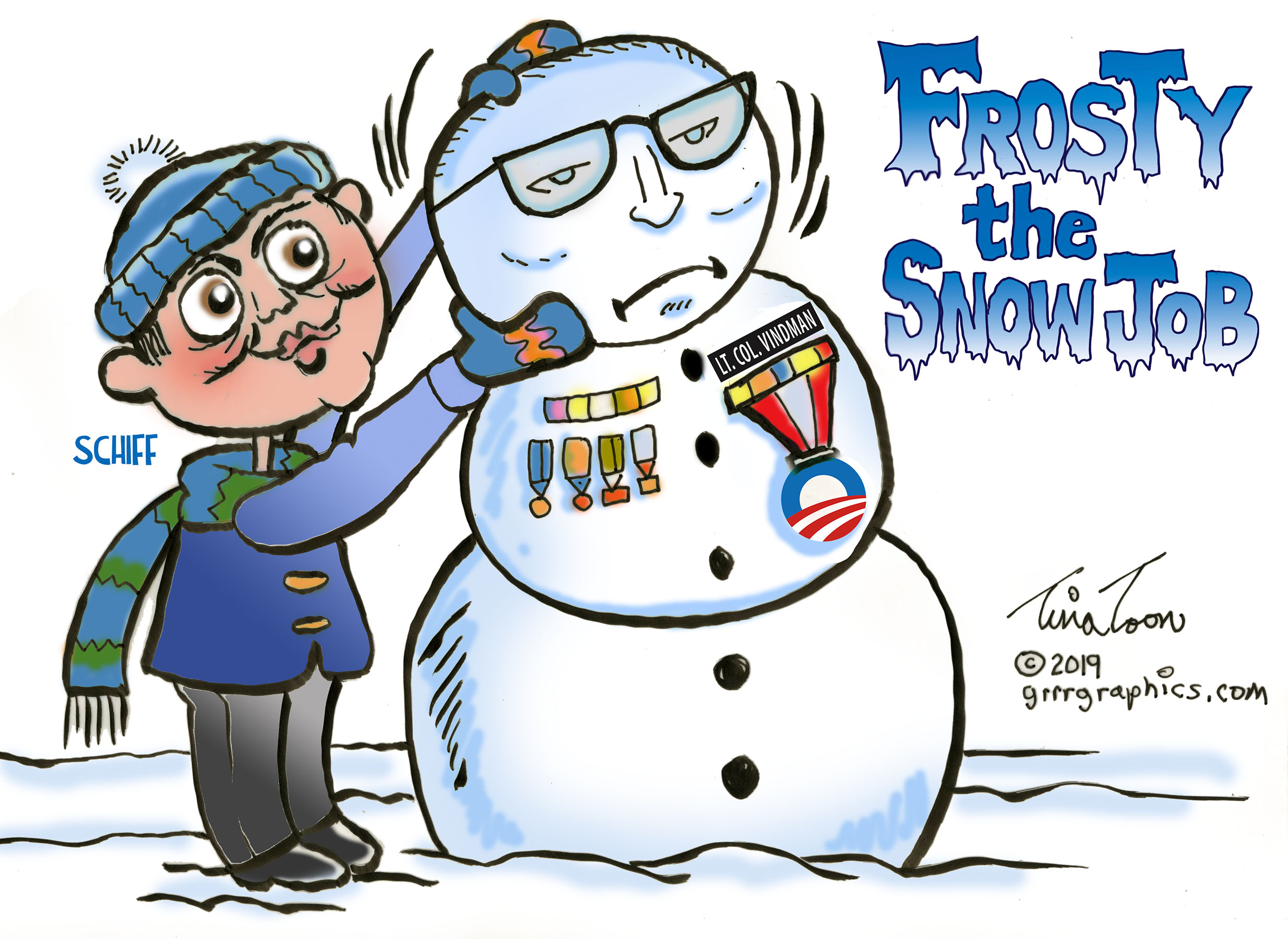 Adam Schiff tries to build a case for impeachment, but like a snowman, it will "melt" under the hot sun of truth
The Clown Show rolls on as Adam Schiff brings in his bad actors on stage to distract the public. Schiff is failing; not many are watching his disinformation campaign.
We saw Schiff bring on the heavily medaled Mr. Alexander Vindman, (that's Lt. Col. Vindman to you!) to appear before the impeachment hearing.
Vindman testified in his opinion that he thought President Trump's phone call with President Zelensky was "improper".
Also of note from day three of the impeachment Schiff show, is that Vindman outs himself as the source for the CIA whistleblower complaint. Ranking member Devin Nunes asked Vindman who he had shared the contents of Trump's phone call with. Vindman answered "two people" and then named State Dept. Gorge Kent and a person from the intelligence agency. Vindman refused to name the second person as it would expose the CIA "gossip-blower"..er whistleblower.
This non-answer makes Alexander Vindman the source for the CIA "whistleblower" Eric CIAramella.
Vindman was offered multiple times to become minister of defense for Ukraine. Where does his loyalties lie?
He also thinks HE should be in charge of US foreign policy, NOT the US President.
He thinks the President's phone call is "improper" as if he alone is the judge to set US policy.
The Schiff Show is disgusting and embarrassing to America and the world!
(Step 5- well, you know..there is no step 5! )
Tina
IN STOCK The 2020 Ben Garrison Cartoon Calendar- OMG Orange Man Good- is here! Limited quantity- order yours for Christmas now! Click to order now!