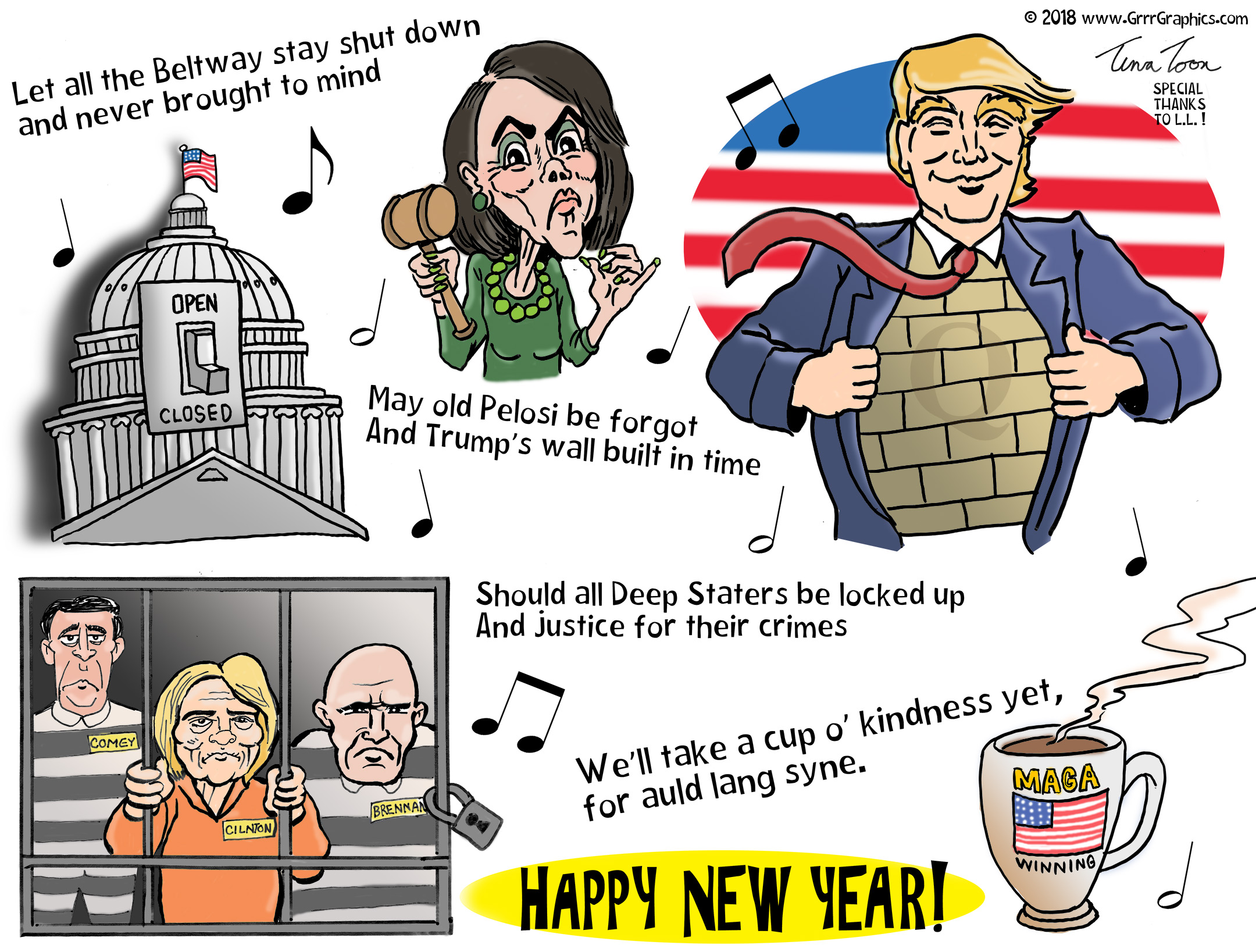 Happy New Year to all our readers and supporters!
2018 was another great year for GrrrGraphics thanks to you. We will keep fighting the unhinged Democrats, the double standards of the FakeNewsMedia and the foaming Hollywood hypocrites with our weaponized cartoons!
Thanks to you GrrrGraphics.com is averaging half a million page views per month! That's 6 million page views a year.  We could not have achieved this milestone without your support!
We kept on creating high impact art despite the attacks by angry leftists that took our site down multiple times in 2018. We were called racist, sexist, nazis and many other names by unhinged lefty Twitter mobs. We were censored by Twitter, Facebook and Instagram.
We never gave up.
We never surrendered!
Thanks to you!
We look back on 2018 with pride and gratitude.
Some of GrrrGraphics 2018 Highlights:
Garrison Toons Animations Launch! We will be creating more Animations in 2019 and looking for collaborators! 
Lock Them Up Cartoon Book Published. A big hit thanks to you! We plan on doing another book in 2019
Tina Toon "Red Wave" posted by President Donald J. Trump on both his Twitter and Instagram Accounts.
Cartoons retweeted by the biggest names on Twitter like James Woods, Ann Coulter, Donald Trump Jr and many more.
Ben Garrison "A House Divided" cartoon posted by "Q" ThankQ!!!
ANOTHER Ben Garrison Cartoon "The Great Awakening" Posted by "Q"
GrrrGraphics website revamped and secure hosting added.
The GARRISON, our community forum for cartoon fans and supporters went live! You can join us at our MAGA forum, free from Leftist censorship! Click to view 
Tina Toons added to the GrrrGraphics Cartoon Roster 
Guest blogging added.
and well, you get the point!
Thank you for your continued support and loyalty to GrrrGraphics. Our goal is provide the best MAGA cartoons on the internet and keep fighting the censorship and tyranny of the Deep State Swamp. 
Tina and Ben Garrison
PS. YOU are why we draw!