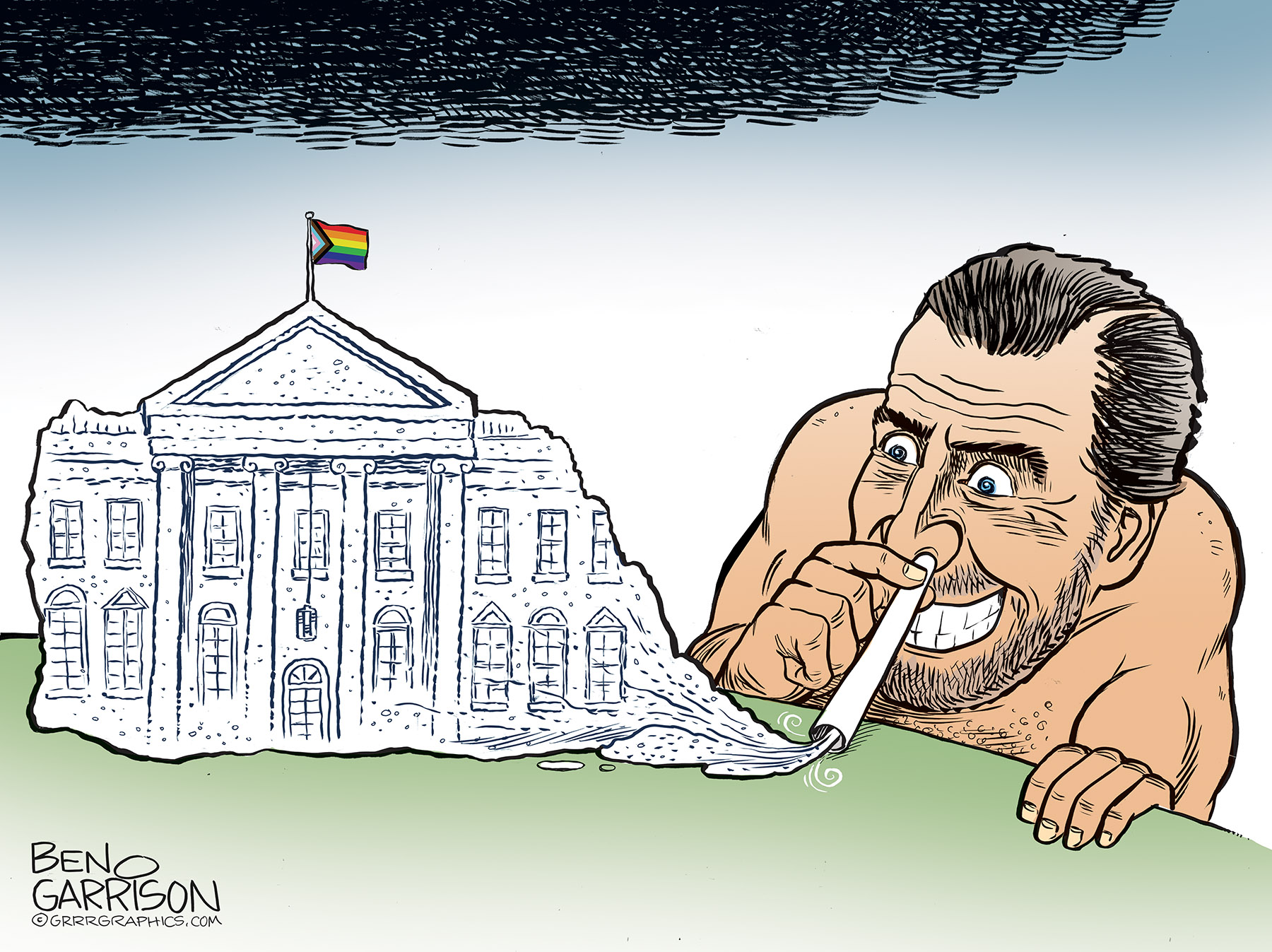 Hunter Biden's White House Blow
Cartoon published 07/07/2023
Sports betting odds place Hunter Biden as being a 2 to 1 favorite as being the culprit who left behind a bag of (mostly used) cocaine at the White House. 
Another odd fact is the location of the illegal drug keeps shifting. First it was in the library, then in a 'cubby hole' in a well-trafficked area, and now it is said it was found in a 'situation room', to which far fewer people have access.
Fight Back Against Corruption with a small Donation! Support Cartoons and Save America
The Secret Service is supposedly on the case—they're looking for DNA and fingerprints and examining film footage. They said it could take weeks, but now we're hearing results could come as soon as Monday? Why does the info on this matter keep shifting wildly? Are they trying to cover for someone?
The Secret Service was run by the Treasury Department, then it shifted to be under the purview of Homeland Security, and now many want it shifted back to the Treasury Dept. The question is, are they competent or compromised? After all, the White House is supposedly the most secure building in the country. Cameras, pat-downs, detection devices abound. Did a camera conveniently malfunction as it did in the prison which allowed Epstein to be murdered? Either the Secret Police are incompetent, or they are as corrupt as the FBI and CIA.
You can support our work by joining us on SUBSCRIBESTAR- AN EASY WAY TO SUPPORT CARTOONS WITH A SMALL MONTHLY DONATION.  SEE NEW CARTOONS FIRST BEFORE PUBLIC RELEASE! Thank you and see you at SUBSCRIBESTAR
Meanwhile, we at GrrrGraphics will take the odds and bet on Hunter as being the guilty party who left the baggie behind. After all, it fits his modus operandi. He left his laptop behind. He left a crack pipe in a rental car. He left his own daughter behind. The man leaves a sloppy trail of criminality wherever he goes. He always gets away with it because he's the son of the very corrupt Joe Biden.
Hunter will get away with it again.
— Ben Garrison
Follow @grrrgraphics on Twitter      GAB, TRUTH SOCIAL, PARLER, INSTAGRAM, TELEGRAM ,
or join us at The Garrison!
We are fundraising for 2023, You can also keep GrrrGraphics online with a purchase!  Visit our Best sellers! Click now!
Buy your one-of-a-kind, original Ben Garrison