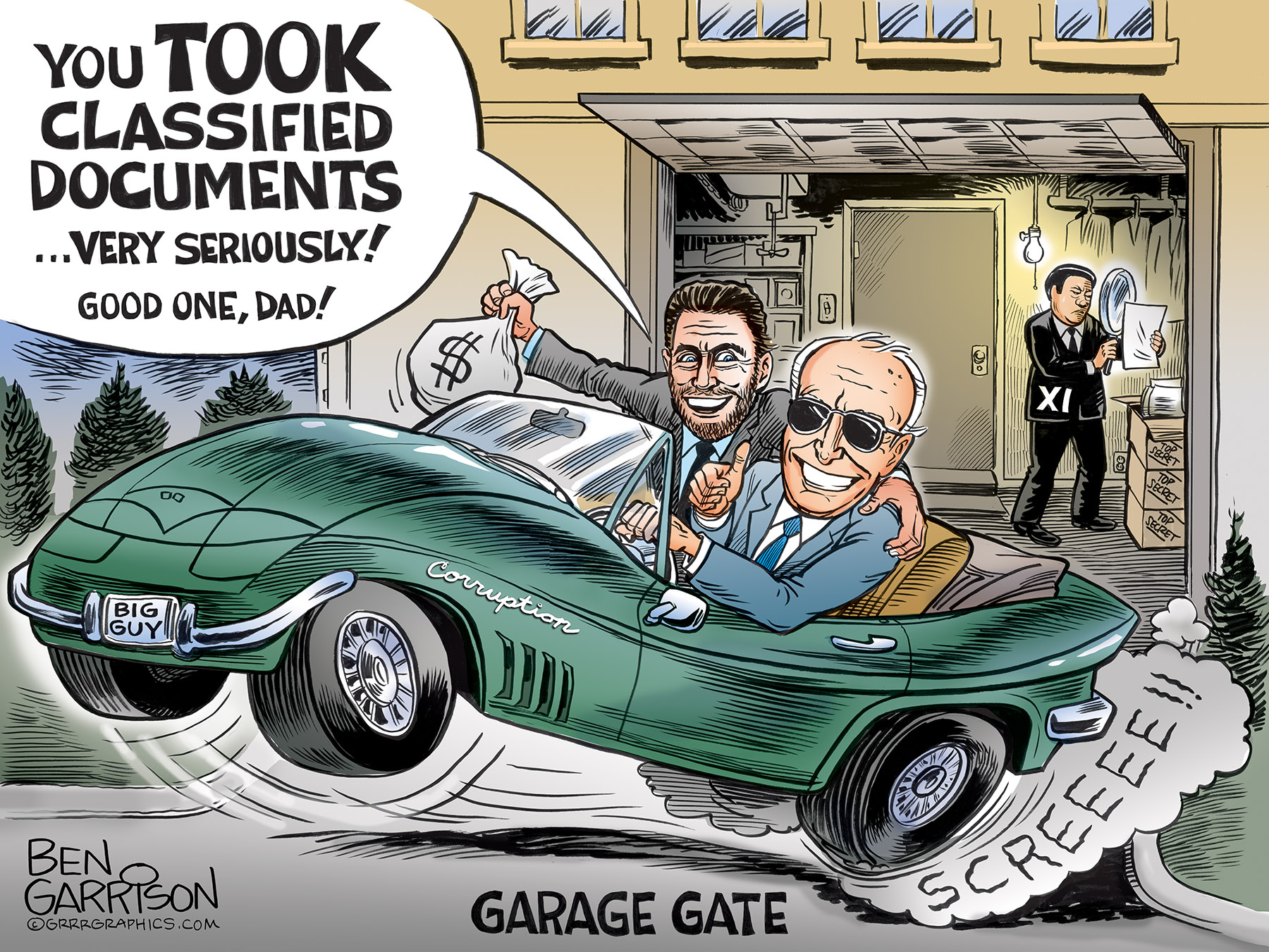 "You're Getting Impeached, Jack!"
Cartoon Published January 13th, 2023
Joe Biden stated he 'takes classified documents very seriously.' He certainly has taken them all right, but leaving boxes of them in his garage suggests gross criminality.
He lamely said he keeps his garage locked and the boxes next to his vintage 1967 Corvette Stingray. It was a wedding present from his father in-law. Having classified material next to a cool muscle car is hardly an excuse. Joe knew the boxes were there. The far left's theory of Trump planting them in Joe's garage holds no water.
Joe also kept boxes of top secret material inside his office closet at the Penn Biden Center for Diplomacy and Global Engagement. The University of Pennsylvania received $30 million in dark money from communist Chinese donors after the think tank was built. China Joe received a cool million dollars from the University of Pennsylvania. Hunter had access to Joe's office. Who knows who else had keys to that closet. There was no reason to involve Joe in the Center other than use his name—and his influence—to gain money by selling out our country.
Selling influence is what Biden does. He's a very old man and his bad character is deeply engraved. He won't change. We already saw how he used his influence to favor his son over American interests in Ukraine. He even bragged about it. Will he now brag about getting away with having the classified documents? I wouldn't be surprised. Joe reacts with anger when cornered. He likes to use the word 'Jack' when he's peeved.
Joe needs to resign or be impeached.
— Ben Garrison
Follow Ben Garrison cartoons on Twitter at @grrrgraphics2
Follow @grrrgraphics on Twitter      GAB, TRUTH SOCIAL, PARLER, INSTAGRAM, TELEGRAM ,
or join us at The Garrison!
We are fundraising for 2023, You can also keep GrrrGraphics online with a purchase!  Visit our Best sellers! Click now!
We are fundraising for 2023, You can keep GrrrGraphics online with a purchase! 
Signed Print Available-click to order
YOU WILL BECOME PART OF HISTORY
..by purchasing your one-of-a-kind, original Ben Garrison Cartoon and making an investment in America's exceptional unfolding story.