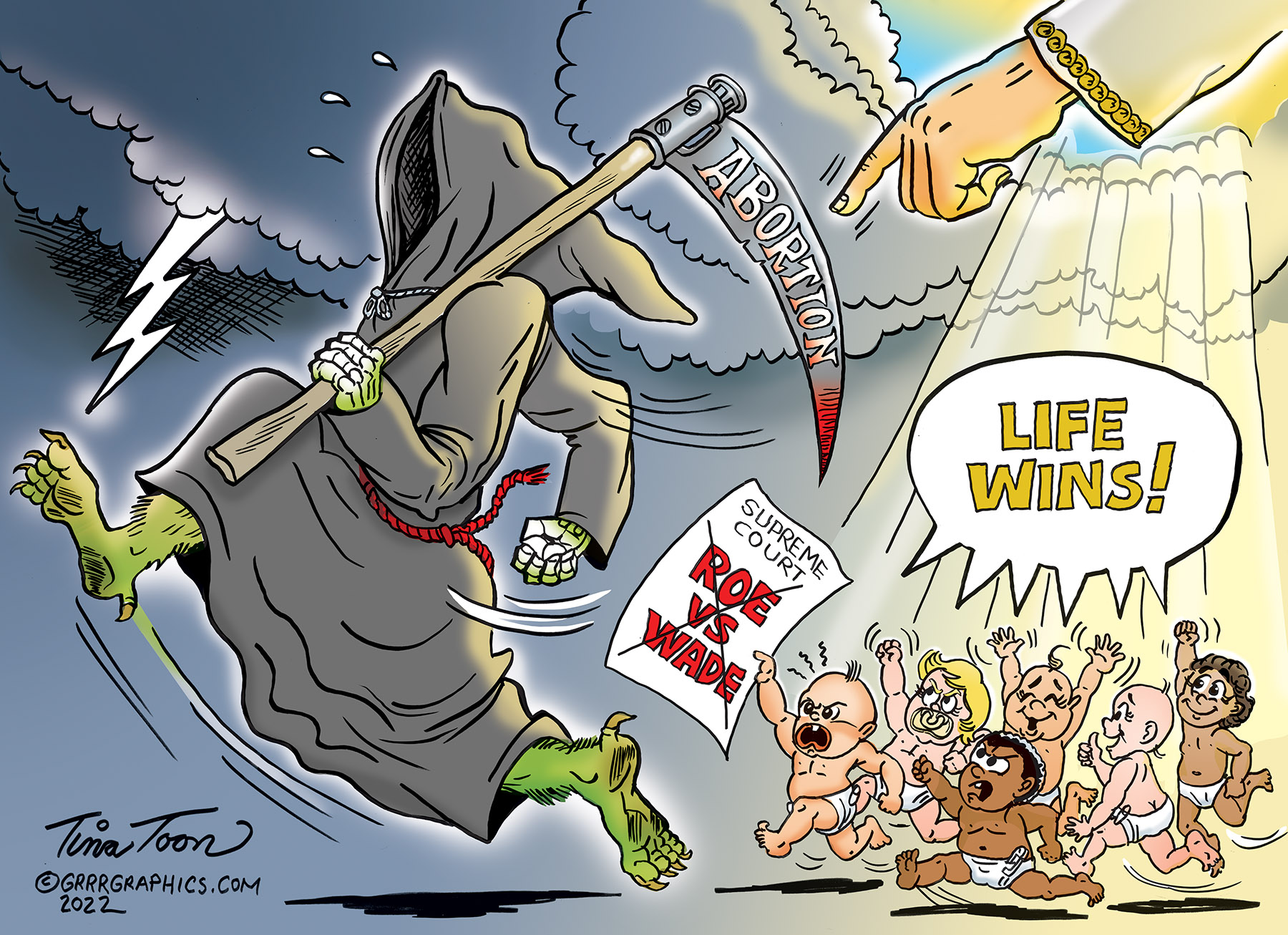 Life Wins!
President Trump  commented on the Supreme Court overturning Roe V. Wade by saying "God made the decision."
The comment brought about expected derision from the Democrats, of course. After all, they have been busy removing God from everything.
The Democrat leaders were predictably outraged. Even though there has been over 63 million deaths of unborn babies since Roe V. Wade was established in 1973, the Democrats consider abortion to be sacred. Of course, they call it 'women's health rights' and not abortion. Dementia Joe, who was once against abortion, now feigns outrage. He questioned what  would happen to women who are made pregnant by rape or incest. (Pedo Joe probably committed incest himself. After all, his family is rather screwed up). Most likely, abortions are performed out of convenience, not as a result of rape or incest. Democrats consider human beings to be disposable blobs of matter. This is a predictable attitude since most of them are Marxists and atheists.
Support  Tina Toons with a One time donation! Click to Donate!
Maxine Waters called for an insurrection against one of the three branches of government. Chuck Schumer threatened violence. There was support from Democrats for the protestors outside the Justices' homes while they were still deliberating and although that's against the law, nobody was locked up because Insurrection is fine when Democrats do it. They are, after all,  above the law.
The Democrats want to blow things out of proportion in order to influence midterm voters. The Supreme Court did not ban abortion, they simply left it up to each individual state—the way it should have been all along. The power to decide has been restored to the people to a certain degree.
There is nothing about abortion in the Constitution so it's clearly a state issue and it should have been all along. It's also clear that the blue states will not make abortion unlawful. If anything, they will encourage more of it and right up to term.
Watch for the left to throw a tantrum over the SCOTUS decision.  They will riot, loot and storm federal buildings calling for the Supreme Court to be dissolved.
Looks like an insurrection and a J24 committee should be formed right away.
Liberal tears are back on the menu boys!
— The GrrrTeam