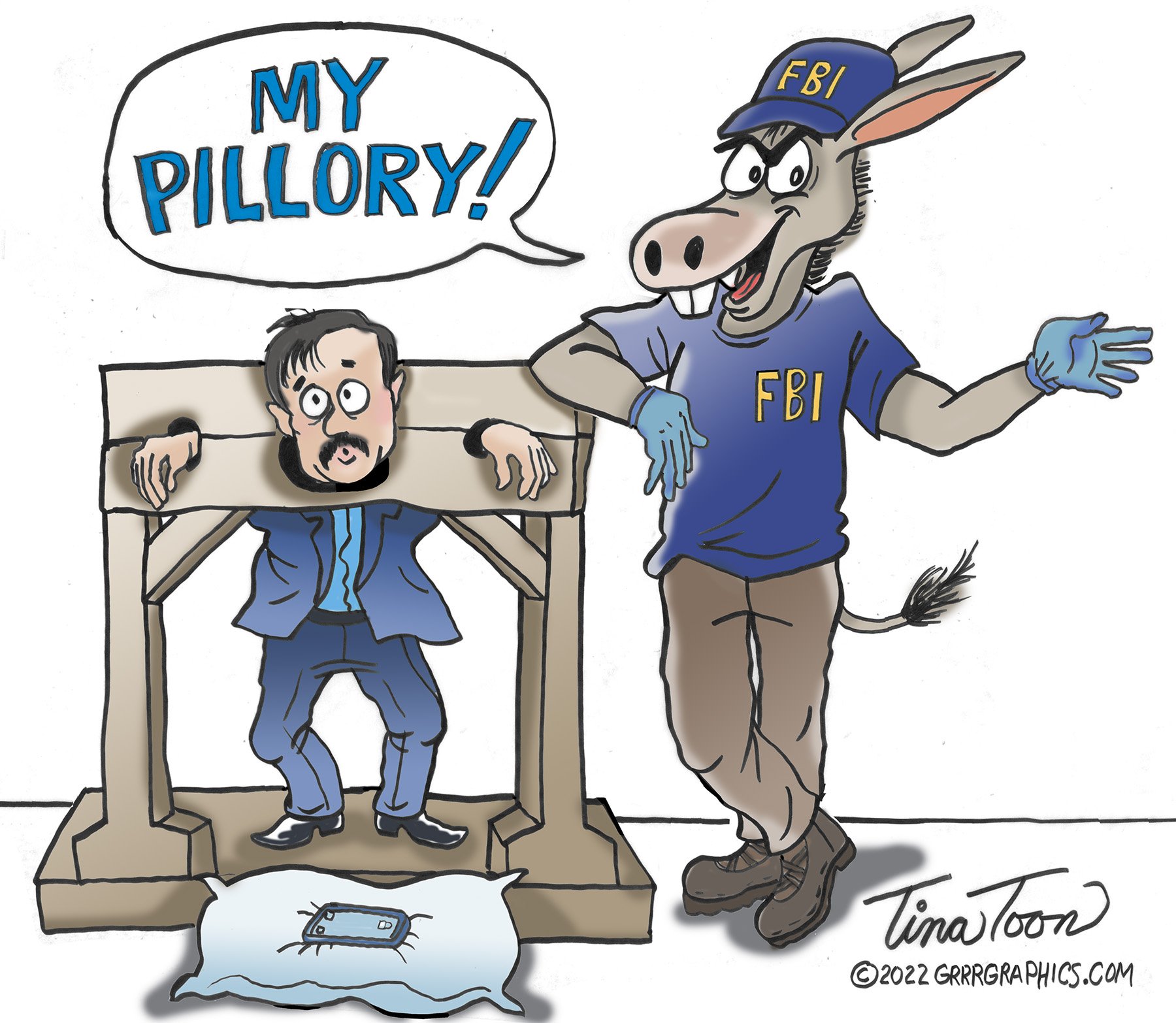 Put The Pillow Down And Place Your Hands In The Air!
Breaking News: Mike Lindell to sue FBI
Mike Lindell, the 'My Pillow' guy, was surrounded by the FBI while he was at a Hardee's Restaurant drive-through window. We heard Lindell was on a hunting trip. Apparently he was on the hunt for a juicy cheeseburger. 
Regardless, the FBI is now on the hunt for Trump supporters who rightfully question a rigged election. They confronted Lindell with a subpoena and seized his cell phone. Apparently Mike does all his business on the phone, but does the Democrat-controlled FBI care? Of course not.
Sign up for the Grrrgraphics newsletter and never miss a cartoon- Click to sign up today
This is a signal of expanding harassment by the KGB, er, FBI. They are not just going after politicians who were allied with Trump, but also private citizens.
You are invited to join me on SubscribeStar- a Pateron alternative, for exclusive cartoons and behind the scenes look at GrrrGraphics, Click to Join!
Hey FBI, we once had a conversation with Roger Stone while visiting in Austin. Does this mean we're on your list? Let me save you some time. We discussed Roger's books and old time jazz music. We also met Alex Jones. He treated us like royalty while we were there. We are MAGA-minded cartoonists, but if you knock on our door for a 'discussion,' you'll get nothing out of us. We can't afford a lawyer, so we'll simply plead the Fifth Amendment. (We might make a cartoon out of it, though).
All humor aside, the FBI and IRS can't harass and try to lock up half the country, but that same half the country may just end up locking up many corrupt FBI agents. Just a head's up, FBI.
Meanwhile, we wish the best to Mike Lindell, a real MAGA warrior.
— The GrrrTeam
Donate to support our fight against the lies of the communist Democrats, Ridiculous RINOs and the DC swamp! Get involved!