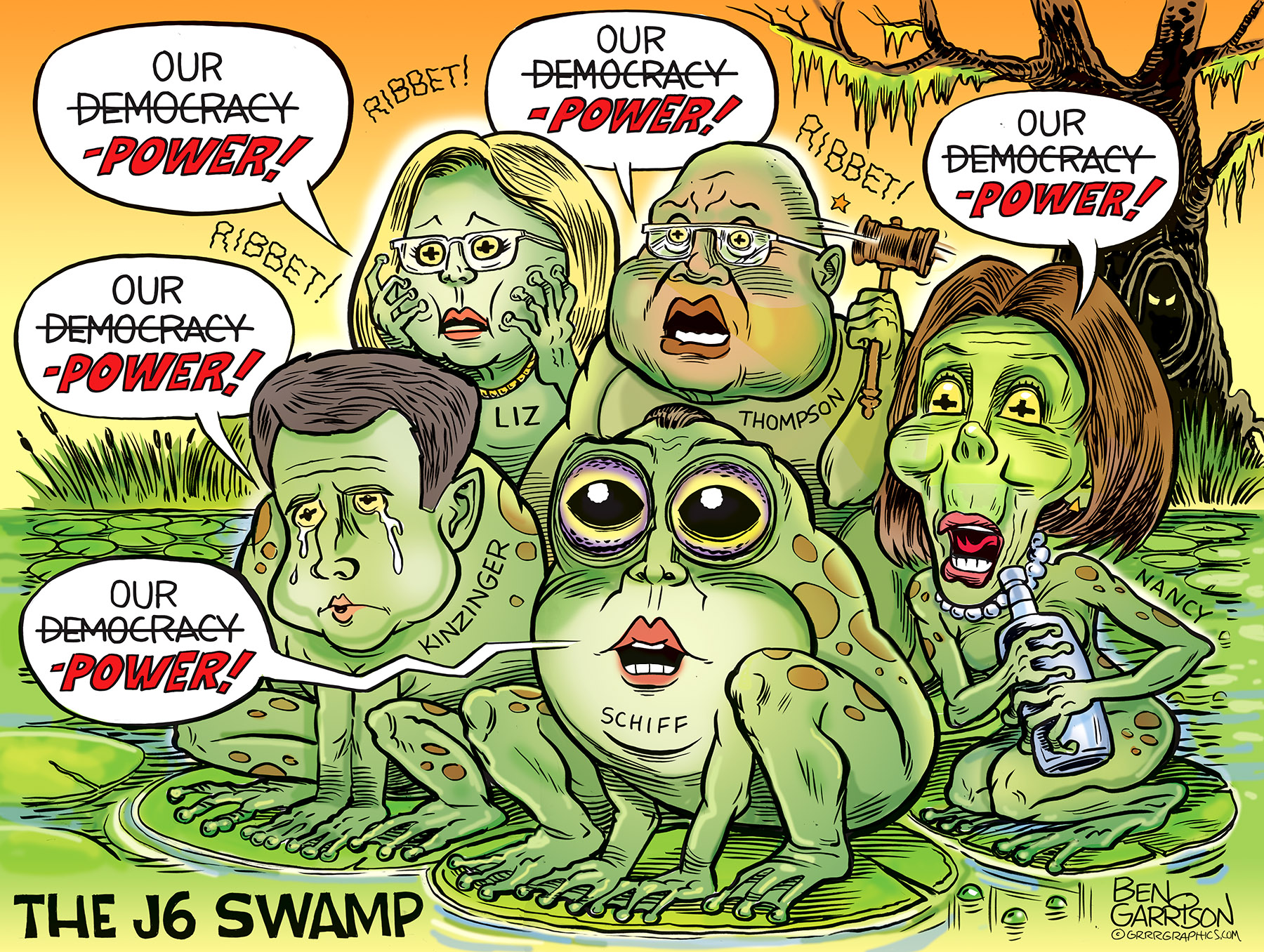 Drain the Swamp!
If you've listened to Pelosi's January 6 Commission, you've heard a great many politicians use the phrase, "our democracy" over and over.
The panel members claim President Trump worked to 'undermine our democracy,' or you'll hear the protest on January 6 was a 'huge threat to our democracy' even though most of the protestors were more interested in taking selfies than assassinating people in Congress. None of the protestors were armed. There was no threat to 'our democracy.' When you hear the Democrats say Trump is a threat to 'our democracy,' what they're really saying is Trump is a threat to 'our power.'Besides, the United States is not a democracy. Our founding fathers had a profound distrust of democracy.
That's why safeguards were built in. They didn't want to see individual rights voted away by a majority mob. Pelosi and her crew are well aware of this, so why do they keep saying 'our democracy?' Because they don't want our Republic to survive. They want to end the Electoral College. They want to federalize voting. They want to concentrate all power to Washington D.C. into their hands.The states that ratified the Constitution were distrustful of a strong, central government. They were unwilling to relinquish state power to tyrants. By controlling the vote, the Marxist Democrat tyrants will maintain power no matter what kind of humiliation they dole out to citizens.
Direct democracy means rural states will have no say. The big, blue cities will vote for pre-selected Democrats and they will win. The RINO Republicans are fine with this. America will have a uni-party that can't be voted out of power. At that point, we may as well drop 'states' from the United States. Instead, we'll be the United Democratic Mob. If the J6 Committee is able to convince the DOJ to pursue a felony charge against Trump, he may not be able to run for president again. That has been Pelosi and Schiff's goal all along.
Support Ben Garrison Cartoons with a One time donation! Click to Donate!
The tears of Kinzinger and feigned outrage from Liz Cheney are nothing but acting to help the never-Trumper Republicans select an establishment-approved candidate who will probably lose to Joe or Kamala—especially since future elections will no doubt be rigged by the Marxist Democrats. The J6 Committee was set up to help the Democrats grab permanent power.
We all know the J6 Committee is a joke, but the punchline is definitely not funny.
— Ben Garrison