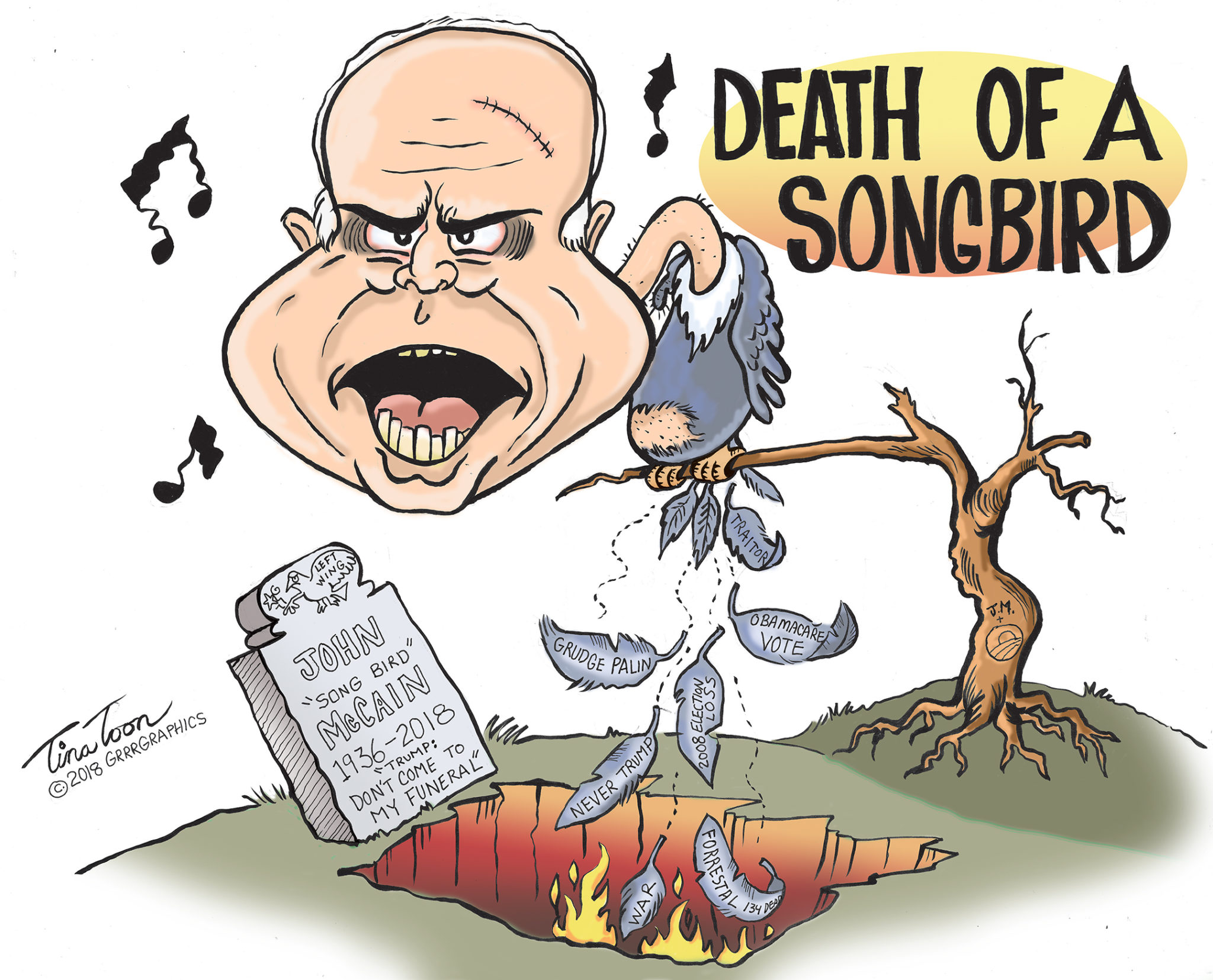 John McCain has one foot in the grave. The Arizona Senator is on his deathbed, dying from a deadly brain cancer.
Most of us, if faced with a similar situation, would want to spend each precious moment with family and friends. But McCain wants to celebrate "festivus" early and air his grudges and grievances.
The Senator who voted against repealing Obamacare wants Obama to deliver a eulogy at his funeral. McCain made it very clear he does not want President Trump to attend. I would like to see "Never Trump" carved on McCain's headstone, as he resents Trump to the bitter end.
The ungracious Senator also took a swing at Sarah Palin, too. Palin was the only reason millions for voted McCain in the 2008 elections, including me. The McCain campaign made deadly blunders including suspending his campaign two weeks before election day because of "save the economy" or something. "Maverick" handed the election over to a left wing radical and gave America, Barrack Hussain Obama (Mmmm Mmmm) ushering in 8 years of the most Marxist American President in history.
Ben has written before about McCain's tainted military service and special treatment as an admirals son in this post, Remove the Tumor .
Remember to shed no tears when this "song bird " falls from his perch.
McCain can take his bitter grudges and regrets straight into hell.
Tina
Collectors! Original Art Available 
Note:
In the last eight years, we on the GrrrGraphics Team have grown tremendously.
And it's only with your help that we can reach the next level. We are ramping up even more so that we can help spread the truth in the fight against tyranny and the Deep State. They threaten our liberties and freedoms, and together we can fight them with knowledge and awareness.
Please join us in this cause to liberate the minds of North Americans and your fellow patriots and donate what you can so that we can spread the word on an exponentially larger scale. With your help, we can truly fight for freedom and liberty in the information war for our minds.
Click Here to Make A ONE Time Donation- Thank YOU!